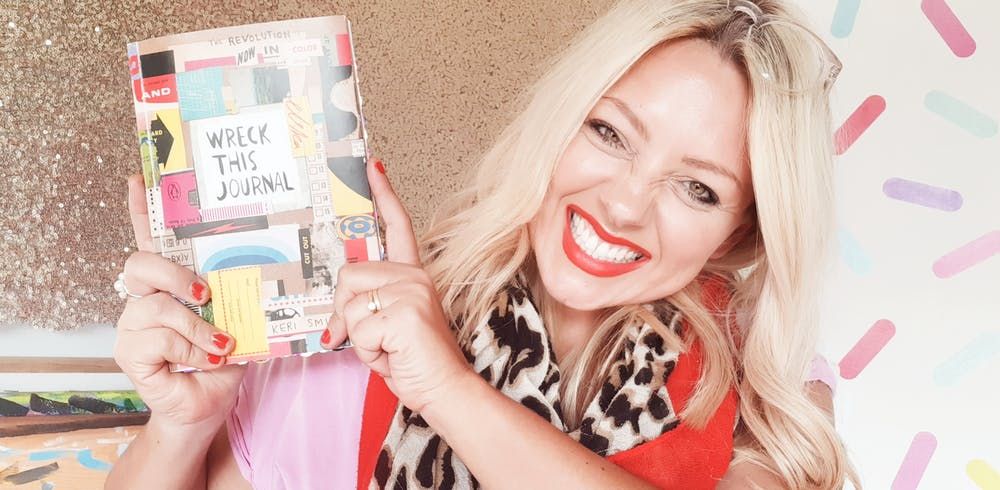 Have you ever been stuck in a creative funk and just don't know how to get your creative juices flowing?! Are you keen to get more creative but have no idea where to start? Fear not! In this blog post, I will share with you 5 practical tips to motivate your creativity so that you can get outta your funk, get those juices flowing and start creating today!   
HOT TIP #1: Be an art sponge – integrate art into your life! Exposing yourself to art in all its forms, trains you to look for meaning, messages, and reflections in art. Seek art everywhere. Books, TV, film, music videos, museums, fashion, songs, photography, live shows…. You have access at your fingertips with the internet and being an art sponge doesn't have to cost you a cent. Visit free exhibitions at galleries – online (or in person). Take virtual tours. Use social media for GOOD. Search Instagram or TikTok hashtags relating to the arts and creativity and be amazed at the incredible visuals and artists you will find right there in your hand. One of my fave Australian creative magazines is Frankie because they have the best weekly e-newsletter – it is filled with curious creative bits and bobs, from all over the globe, curated for me every single week. I have been inspired by so many creatively juicy things I have soaked up from that newsletter – it is the best thing in my inbox. #Not sponsored, I just love Frankie. So! To wrap up Hot Tip #1, open your mind to soaking up all forms of art. The added bonus is that you will gain inspo for your own creativity – so going down a rabbit hole on YouTube watching ALL those music videos is 100% okay.. and spending hours creating Pintrest boards is a completely acceptable from of professional creative development.  
HOT TIP #2: Explore and play – try new mediums and artforms! Yes, music is my passion BUT sometimes I just wanna quickly create something tangible with my hands. So I colour in, I play with clay, I make origami. I've explored looming weaving, macramé, I'm about to dive into hand embroidery and I can't wait to take a pottery class. Yep I'm a Nanna, I know. But I love it! I highly suggest you go buy yourself a hot glue gun and just start gluing glittery gems onto everything. (Disclaimer – not your kids or pets) Exploring and playing with new and different mediums really pushes you outside your comfort zone. I am terrible at drawing but last year I stepped way outside my comfort zone and tried a life drawing class. Yep, two fears rolled into one – drawing, and drawing nude people. But it was actually the most welcoming, beautiful, wholesome experience… and I found using charcoal to sketch (instead of a pencil) made everything look super artsy and my drawings actually didn't suck. Moral of the story is, embracing your creativity in many forms allows you to play and explore… and through creative experimentation amazing things can be born!  
HOT TIP #3: Take part in an online creative challenge! Pintrest is a goldmine for these. You can search for 30 day challenge Pintrest boards on just about any topic - photo a day, fave music, drawing and writing prompts… the options are endless. The challenges provide you with daily prompt for your self-expression so it takes the stress out of thinking about 'what' to create and allows you to just be led by the prompt. And if you are in a creative funk and just don't know what to do or where to start with your creativity - the challenges are super helpful because it takes the pressure off creating as it is fun… added bonus is that what you create in those 30 days can then spark even MORE creation for you, to develop your ideas even further.  
HOT TIP #4: Get organised! I find I become overwhelmed and cant create when I have a billion ideas running around in my mind because everything seems as important as the next thing and I don't know where to start and so I just don't. So my creativity stops. This comes down to a lack of organisation. So I make lists – big lists – and write down ALL my ideas. I like using big A3 sized pieces of paper for each idea or creative task I am working on or want to work on. And on those big bits of paper I write everything down related to that idea that's whizzing round in my brain. Basically, ya just do a big brain dump on paper – it doesn't have to look pretty on paper, you just gotta get all the ideas out. Then, I can step back and see things a lot more clearly and I instantly feel less overwhelmed… because all of those ideas are no longer clouding my creative brain – they can now become tangible items on a to-do list I can tick off.    
And we've come to tip number 5, which is a little bit controversial. Are you ready for it?! 
HOT TIP #5: Don't be creative – just relax! Get outside, change location, allow yourself to just be and don't put pressure on being creative or creating. When you relax and switch off your mind you will actually find that HELPS creativity to flow. I've come up with some pretty awesome ideas when I've vacuumed my house, and melodies always seem to fall from the sky and land on me, when I'm driving my car. So take a break from trying to be creative, take a break from the process and hopefully it WILL help to unleash those epic creative ideas.  
Here's a little bonus take home tip for you – always remember: creating just for the sake of creating is okay. Not everything has to 'be a thing' or a masterpiece. We create because we just love the creative process… don't lose sight of the enjoyment of creating! 
Take these 5 practical tips to motivate your creativity, implement them into your week, explore, play, integrate art into your life - be that art sponge and get your mind creatively organised…. so that you can create something amazing this week!  
Love Elska xo